Songs on Fizziks Enjinn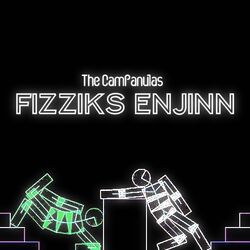 Everybody Loves to Laugh Out Loud
Bonus tracks
Everybody Loves to Laugh out Loud is the opening track for Fizziks Enjinn. The song is a celebration of internet meme the LOLcat, as told from a LOLcat's own perspective. Although the lyrics for the verses are written in the usual LOLcat speak, when heard on the audio they sound no different from ordinary English - although occasionally with some curious grammatical structure.
These lyrics are copyrighted, and are not covered by Wikia's CC-BY-SA license.
These lyrics are used on CamPing with Lamarr Wiki with permission of the author, they may not be used for commercial purposes without permission of the copyright owner.
WUD U LIKE TO C MI INVISIBLE BIKE NOW BBE?
WUD U LIKE IT TO BE HUGZ TIME NOW PLZ?
OHAI IM UR BEST FRIEND
OUR LUV WILL NEVER END
THEREZ LULZ AS FAR AS MI EYEZ SEES

And if you're happy
Then we are happy
It makes us happy
To make you happy
For if you're happy
Then we are happy too

For we are the LOLcats
We live to make you LOL
And if you LOL at LOLcats
Why it might just save your soul
'Cause everybody loves to laugh out loud

OHAI YOUR PC WUZ BROKE BUT I FIXED IT BBE
NO NEED TO THANX THATS WHUT I DO
I DO SO MUCH 4 U
I BAKED A COOKIE 2
I EATED IT BUT MI LUVS STILL TROO

And if you're happy
Then we are happy
It makes us happy
To make you happy
For if you're happy
Then we are happy too

For we are the LOLcats
We live to make you LOL
And if you LOL at LOLcats
Why it might just save your soul
'Cause everybody loves to laugh out loud