Character History
Edit
In Half-Life 2, Alyx Vance states that Dog was once only 'yay high'. It therefore followed that he must have once been something smaller, and as Life with Lamarr is set before the events of Half-Life 2, in the comic strip he is still in his earlier form, to wit: a toaster. Despite this, he appears to have some form of sentience, answering Alyx's enquiries to the best of his abilities (by producing toasted waffles) and defending her from the Combine at a critical point by delivering waffles with such speed and violence that the grilled batter fancy was embedded several inches into a Combine solider's skull. He has also clearly been modified, the most obvious addition to his original toaster form being a large compressed air cylinder attached to his chassis.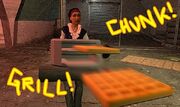 Dog is very large compared to most toasters, and so it is likely he was originally manufactured by Dualit, although this is unproven as all his original marking have been removed.
Book Two: The Free Children's Commune
Edit
Dog does not play a large part in the story, usually being seen occasionally carried around by Alyx, who speaks to him and treats him as a pet. He most came to the fore in the episode A Toast to the Combine, in which his true powers were finally revealed.
Book Four: The House of Longfigger
Edit
<(This Wiki needs work, get to it you rapscallions!) (Yes sir!)>

---
The model for Dog is the toaster used for the 'Waffle Launcher' modification for Garry's Mod. This toaster can be used as a weapon in-game, and does indeed launch deadly waffles capable of killing instantly.